Morning & Afternoon Programs...
Our morning and afternoon programs are also popular. These programs are for younger students just beginning to go to school. The morning and afternoon programs offers the same strong academics and activities as our other programs. We can enroll student ages 3 to 4 for out Morning Program.
Breakfast and lunch are provided for morining students.
Lunch and snack provided for afternoon students.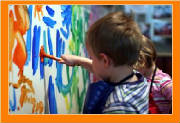 Full-day Wrap Around Program
Another program is our full-time experience. This allows the student to live independently and grow as a person. This program is unique for working parents, or those attending school full-time.
Contact the school for admission details for this program at:
(773) 534-8580.


Admissions Requirements...
Children must be at least three years of age, but not yet five on or before September 1st of the current school year.

Families must reside within the City of Chicago.
Important:
Requires parent involvement. Parents or guardians are expected to participate in parent room or classroom activities twice a month. Activities include topics relating to child growth and development, literacy, readiness skills, parenting skills, health, safety, and nutrition.